2023 ALFA International Insurance Roundtable
Alex Tilling, George Fagan, and Jerry Saporito visited the beautiful Charleston, South Carolina for the 2023 Insurance Roundtable hosted by ALFA International. Chaired by Kathy Terry of Oklahoma City, the sessions focused on confronting traditional claims and coverage issues in today's progressive environment, with a little time saved for touring Fort Sumter and exploring the historic downtown.
George Fagan, along with co-panelists Kathy Terry and Melissa Fernandez, presented on how to navigate issues between insurance companies and independent agents, including indemnity, agent mistakes, E&O coverage and the absence of E&O coverage, fraudulent joinders, and other dilemmas.
Leake & Andersson is the only Louisiana member firm of ALFA International, the global legal network of firms committed to high-quality, cost-effective legal services.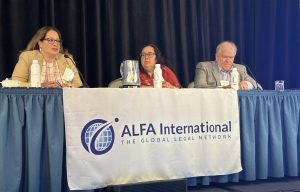 George Fagan pictured with co-panelists Kathy Terry and Melissa Fernandez.